Shown above: Ted Miller's Stearman. (Photo by Diane Miller)
Original aircraft have a 7-cylinder, radial engine, built by either Continental (220 HP) or Lycoming (225 HP). Common engine conversions are a Jacobs 300 horsepower engine or the 9-cylinder Pratt and Whitney R-985 Wasp, Jr. with 450 horsepower.
The Stearman is a lovely airplane to fly, with finely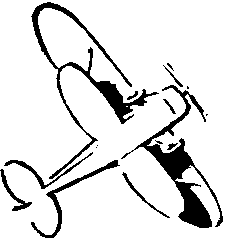 balanced controls. A very strong airframe makes it easily capable of aerobatics.
However, the high center of gravity, coupled with a narrow landing gear and limited forward visibility have created a deserved reputation of being tricky to handle on the ground.
A common military designation was PT-17: "Primary Trainer". Many World War II pilots got their first airplane ride in this timeless aircraft designed by Lloyd Stearman. These Army Air Corps (the forerunner of the Air Force) airmen, as well as their Navy counterparts, are to be admired for learning to fly in such a noisy, intimidating aircraft.
By comparison, today's student pilots have a much more accommodating learning environment.
Note the tandem seating: one seat in front and one in back. The Stearman is flown solo only from the rear seat because of weight and balance considerations, so the instructor traditionally rides in the front cockpit.
Ailerons appear only on the lower wing in a standard Stearman. The N3N, which looks similar to a PT-17, has ailerons on both the upper and lower wings.
The PT-17's wings have wooden ribs, while the fuselage longerons are steel. The covering is mostly fabric, but some aluminum panels are used.
Home | FAQs | Schedule | Housing | Rides | Photos | Contacts | People

Last updated 02/24/2010
© Copyright 2004-2010 by Grace Flying Service. All rights reserved.